06/29/2023
EURO1k Update: Empowering Day-Ahead Trading
EURO1k will extend its forecast horizon to 48 hours

Dr. Akemi Narindal-Aoki
Sr. Content Marketing Manager
EURO1k, a high-resolution weather model tailored for Europe, continues to evolve with two exciting updates this summer, empowering users to maximize its potential. From mid-July onwards, traders can now harness the power of EURO1k for day-ahead trading, thanks to the introduction of new 48-hour runs. As August approaches, users will have the option to add EURO1k to the Meteomatics Power MIX model, further enriching energy forecasts.
EURO1k Is Meteomatics' High-Resolution European Weather Model
EURO1k is a high-resolution weather model specifically designed for Europe. It operates at an impressive 1 km resolution and hourly rapid data refresh, making it a unique weather model. With EURO1k, we are able to generate highly accurate forecasts that cover both spatial and temporal aspects across Europe and some regions in northern Africa.
EURO1k offers several advantages over the standard global weather models, including:
1 km resolution: While the typical resolution for global models is 20 km, EURO1k stands out as the first and currently the only model in Europe capable of capturing the smallest meteorological phenomena, including thunderstorms, hail, and storms.
Downscaling to 90 meters: Combining advanced downscaling algorithms with NASA's 90 m digital terrain model, the 1 km resolution of EURO1k can even achieve model resolutions of up to 90 m, further refining the accuracy of our forecasts.
High temporal resolution: EURO1k rapidly refreshes every hour, integrating all measurement and observation data available in Europe. It provides weather data at 20-minute intervals, while the temporal resolution of other models is usually 1 hour. Through sophisticated data interpolation techniques, we can even output data with a 1-minute resolution.
Exclusive integration of Meteodrones data: EURO1k can be enhanced by incorporating Meteomatics Meteodrone data at specific locations, resulting in a more precise and improved forecast for the surrounding area.
Exciting Updates Coming This Summer: EURO1k for Day-Ahead Trading and Energy Forecasts
Use EURO1k for Day-Ahead Trading
Up until now, traders have relied on EURO1k for intraday forecasting thanks to its hourly updates and high resolution, which results in remarkably low model error within the first 6 to 12 hours after each initialization and makes it the best choice for short-term forecasts up to 24 hours.
Starting in mid-July, we are excited to offer a new feature of EURO1k: day-ahead trading opportunities. Now, users can access 48-hour forecasts by leveraging the model's enhanced run lead times. Specifically, the 3:00 UTC and 6:00 UTC runs will be available around 5:00 UTC and 8:00 UTC, respectively, giving traders a competitive advantage with early morning access to the forecasts.
This advancement is of significant importance for industry sectors that are highly impacted by the weather conditions, such as the energy sector. By accessing EURO1k's extended lead time for day-ahead trading, traders can optimize their trading strategies and profits, mitigate risks and minimize losses associated with sudden weather changes.
Access Precise Energy Forecasts Based on EURO1k
One of the most valuable subproducts offered by the Meteomatics Weather API is our energy forecasts specifically designed for solar, wind and hydropower. These forecasts are generated using our Power MIX model, which leverages the best available data for the queried parameters and locations.

The Power MIX model combines weather model data from multiple leading global and regional models, including ECMWF IFS, GFS, UKMO UM10, CMC, AROME, ICON EU, ensemble data, as well as historical production data and real-time information. This multi-model approach, in conjunction with integration of local conditions, ensures the highest level of accuracy in our energy forecasts.

Our energy forecasts are highly detailed, customizable and refined locally. We take into account local conditions and real-time data from renewable energy power plants, enabling us to provide precise predictions for wind, solar and hydropower feed-in across different control areas and locations.
Starting from August, EURO1k will be incorporated into our Power MIX, enhancing both the intraday and day-ahead power forecasts. This addition will further improve the accuracy and reliability of our energy forecasts.

For pricing details, including trial options, please reach out to us as the cost will depend on your specific portfolio requirements. Please note that EURO1k is not included in our standard offerings and requires a special request to our sales team.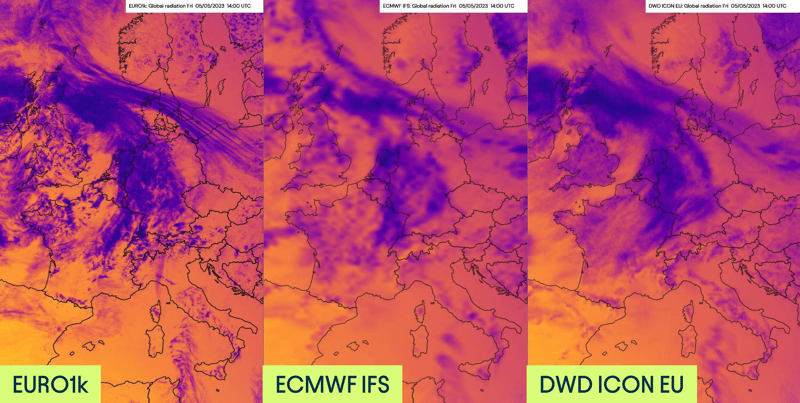 More Information Coming Soon
Stay updated by visiting this website regularly and following our LinkedIn profile.
We will notify you as soon as these updates go live.
Contact Us
If you have any inquiries or would like to request a quote, please reach out to us using the contact form below. We're here to assist you!

Dr. Matthias Piot
Meteorologist and Client Manager
Request Access to EURO1k
Please fill out the following form. We will get back to you within 24 hours.

Explore Our Services
We provide the most accurate weather data for any location, at any time, to improve your business.