Simon Ashton
Principal Meteorologist for Airbus Zephyr & Expert Meteorologist Airbus Group
Airbus
The combination of the Meteomatics data and visualization software MetX matched with Airbus designed tools provides the most advanced suite of weather forecasting systems available today.
Weather Visualization With MetX
With weather maps, weather data can be made accessible to all. A simplified user interface combined with our weather API provides you with a powerful tool for visualizing weather events worldwide, at high-resolution and in real time.

Visualize Weather With Weather Maps
In a general sense, a weather map is a map that visualizes the weather conditions over a certain geographical area. The weather events depicted can be past, present or forecast for the future. From a meteorological point of view, a weather map shows the current state of the atmosphere over a larger area. A weather map can provide information about certain weather parameters, such as temperature, wind speed, wind direction or precipitation. The weather observations or expected changes in the state are drawn in symbolic form or coloured contours.
Use of Weather Maps
Weather maps can be used to visualize weather data. The maps show the current weather situation in real time, but can also be used to forecast the coming weather. Possible weather hazards are thus recognised at an early stage. Weather maps are a decision support system and primarily help to make better and faster decisions in a complex environment.
Weather maps can be used not only by everyone as weather forecast maps. They are mainly used by meteorologists in the media, in the energy sector, agricultural industry, automotive industry, and by aviators. Animations and visualizations are easy to interpret and consequently facilitate better and faster decisions. They show the big picture and how the weather is developing. As a result, risks can be recognised and minimized,processes optimized, and costs reduced.
Creation of a Weather Map
A weather map describes the weather at a given time with a lot of individual information. A weather map shows, for example, measured values for air temperature, air pressure, cloud cover, precipitation, wind direction, wind speed and the course of fronts. The values are entered as two-dimensional representations, isolines or in the form of symbols which are interpreted into a weather forecast
Ground Weather Map
A ground weather map is the better known of the weather maps. To create a ground map, as it is also called, air pressure readings must be taken from all weather stations, i.e. all measuring stations located on the ground, in the catchment area of the map. According to the position of the weather station, the information is entered into the map. Satellite and radar images are also used here for precise assessment.
In the next step, the highest and lowest air pressure values are marked on the map. "H" stands for an area of high pressure and "T" - "L" for "low" - indicates an area of low pressure. The distribution of these high and low pressure areas is shown on weather maps as so-called isobars, i.e. lines of equal air pressure.
High-Altitude Weather Maps
High-altitude weather maps supplement surface weather maps and show the pressure and flow field of the heights at the respective location. These data are determined using radiosondes and depicted in weather maps. These values are displayed as lines of equal pressure surface height, so-called isohypses, and can be identified by smoother fluctuations than in isobars.
A weather forecast can then be created that shows the weather situation to be expected. In addition to the experience of meteorologists, values from the past and current state of the atmosphere are taken into account by applying physical rules and comparing the measured values with model calculations.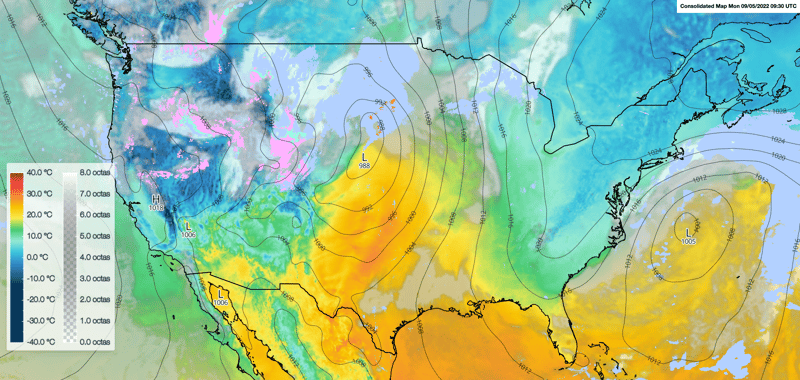 Weather Map Symbols
More accurate weather maps contain additional information on weather events, such as temperature, wind, wind direction, cloud base, dew point, etc.. The values are inserted into the weather map according to the station model.
The station model describes the graphic representation of so-called station messages. These show numerous circles, lines with arrows, numbers and symbols. The messages from the measuring stations are displayed according to a specific system. In this way, a large amount of information can be displayed on a weather map in the most space-saving way possible. The position of the respective station model on the weather map marks the position of the weather station. To avoid overloading the map, however, only the most important stations and their data are included here.
Features of a Weather Map
Just a few details on a weather map provide information about the weather situation at a particular time. The most important values for assessing a weather situation are:

Isolines

Fronts

Pressure areas

Precipitation
Isolines
Isolines are depicted on geographical, meteorological and other maps and are lines of the same weather condition.
On a weather map, values on isolines are the same at every location. These lines can be used to determine which regions have a similar atmospheric condition. In addition, it can be checked how temperature, air pressure, humidity and other values have changed. The measurements are taken repeatedly and help to keep weather maps up to date.
The best known isolines are isobars for equal air pressure, isohyets for equal precipitation quantity or isotherms for equal temperatures.

Fronts
A front is considered a narrow boundary zone between two air masses. In this area, sudden changes in air pressure, temperature, humidity and wind can occur.
A distinction is made between types of front:

Warm front

Cold front

Occlusions

Stationary fronts
Pressure areas
Pressure areas are considered the most important features on weather maps and describe areas of high pressure and areas of lower pressure. These differences are caused by the different degrees of heating of the air masses, because the air pressure is not evenly distributed over the earth.
A low-pressure area is a region with relatively low air pressure. The lowest value is the center of the low pressure area. It is caused by a drop in pressure on the ground or by warm air rising above cold air. On a German-language weather map, an area with low air pressure is marked with a "T". In English-speaking countries, an "L" for Low is used for an area of low pressure.
A high-pressure area, on the other hand, is an area with high air pressure. The highest air pressure occurs in the center. On a German or English weather map, a high-pressure area is marked with an "H".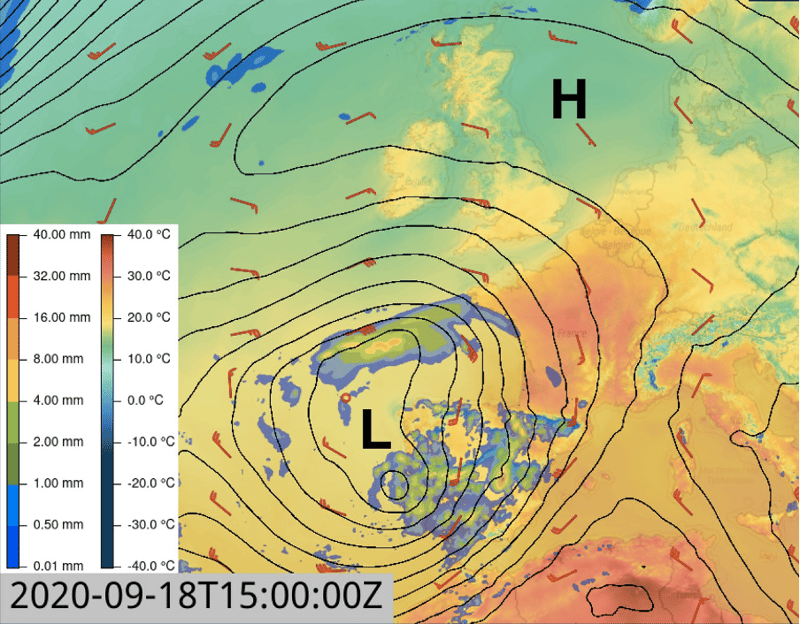 Precipitation
Precipitation is differentiated between solid, liquid and settled precipitation. The weather symbols used for this are often self-explanatory. The symbols show current events, such as cloud cover, or warn of potential weather hazards, such as storms, ice and snow. Often these phenomena are also indicated by coloured areas on weather maps.
MetX: Tool for the Visualization of Weather Data
MetX is a web-based tool based on the weather API developed by Meteomatics.

Advantages of a Weather Visualization With Meteomatics
A weather map is used to display complex weather data and can easily visualize which weather condition is currently prevailing where. With our software for the visualization of weather data, we offer you a high-performance solution to gain more insights and thus make better decisions based on the weather situation.
Compared to other weather maps we offer with our tool:

The calculation of weather data in real time when zooming or changing views

A high granular resolution of 90 meters: based on the NASA terrain model, measurement points are calculated every 90 meters and scaled down accordingly.


Minute-by-minute temporal resolution

The possibility to use various maps, such as topographic maps, border maps, aeronautical maps and many more.

The use of layers to display a wide range of weather parameters

Clear display of up to 4 maps on one screen (quartering of the screen)

Data export for each point on the map

Individual solutions for your weather map on request
Our tool allows highly flexible weather maps through the use of layers:

Use only relevant weather parameters

Create and remove different layers as required

Arrange and move layers on top of each other as desired

Different combination of levels to assess a wide range of scenarios

Adjusting the levels with the help of various setting options, e.g. color saturation.
Functionality
MetX visualizes all available meteorological and oceanographic API parameters such as temperature, pressure, humidity, cloud height, and more. Our maps are generated with multiple API queries at the same time to quickly visualize the weather data even over large areas including a global view. No installation is required to use MetX.
Login
MetX is simply called up via the URL https://metx.meteomatics.com/. After you have entered your user data in a login window, you can start using MetX.
Navigation
Limited to the most important things, navigation in MetX is kept simple and clear. In addition to creating different profiles, there are buttons for creating new maps or diagrams, buttons for the weather layers for entering weather parameters, different views, account information, import and export and for saving. A search function allows you to search for a location with a specific address or longitude and latitude.
At the bottom of the weather map you will find various options for individually setting the time period for the weather animation (time navigation). Most weather layers of our tool can be rewound or fast-forwarded in time. It is also possible to select a specific date.
Layers
The weather layer overview allows you to add weather data from multiple sources on the weather map or in a chart.
You can create different types of weather layers: Parameters related to color charts, grids, isolines, WW code, weather symbols, wind and wave directions, station data, points of interest, aviation, pressure system, lightning data and tropical cyclones. Each level offers different setting options.
When a weather layer is added, the order of the layers can be changed. Using drag & drop, you can simply move the respective layer up or down.
Create animations
Weather animations show the course of the weather over a specified period of time. The animations in MetX are calculated in real time and show the latest weather data. You can adjust the animation period according to your wishes using the various setting options. Choose an individual start and end time, the time zone, the interval and the images per second.
Import/Export
In MetX you have the possibility to import or export saved weather profiles as well as pictures and videos.
Export weather data according to your individual settings from the combination of individual layers with one click or use the possibility to output created diagrams. The animated weather maps are saved as videos in the format of your choice.
Tutorials and Documentation
We prepared an extensive documentation about MetX to help you get started. Click the button to download the PDF or watch the videos to learn the tips and tricks of Meteomatics' weather visualization tool.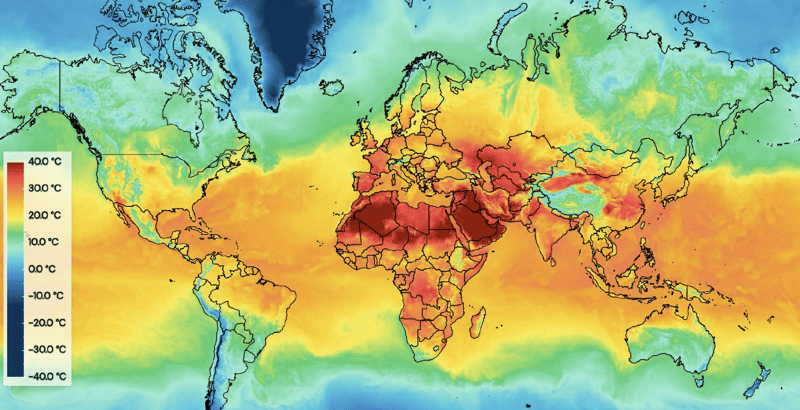 Prices and packages
Benefit from the visualization of weather data from the Weather API and use our web-based data visualization tool MetX.
Try MetX weather visualization for free
You can discover all the marvelous features of MetX with a free account. Get an insight into all functions of our weather visualization software and create your own weather maps with almost all weather data from our weather API - free of charge for 14 days. Only historical weather data and climate data are not available in the test version.
Request a free trial account and opt for a license with unlimited access to all weather data at any time.
MetX license: Full use of weather visualization
With a MetX license, you have unlimited access to all data from our weather API. With the license you also acquire an account that gives you access to all weather parameters, data from over 25 weather models, current and historical weather forecasts, climate data and much more.
The monthly fee for the license depends on the scope of your use or individual functions. An additional license for our weather API is not required.
If you need an individual weather map, we will be happy to advise you to find the right solution for you!
Analyse weather maps
Interpret Weather Maps
Based on the respective current situation, a well-founded weather forecast can be made. To interpret weather maps, 4 important steps are necessary:
Analysis of weather data with MetX
With the help of our MetX tool, several weather maps can be clearly displayed in one tab. You can determine how many different maps you want to combine in one tab. Up to four different fields can be specified and arranged differently, containing either a map or a diagram. Each field can be fed with separate weather information. This allows different weather layers to be combined and displayed in different ways.
With the help of our representation, you can easily observe, analyze and interpret weather events in high resolution and in real time. Make better decisions based on the weather situation and make MetX your tool for analyzing weather data.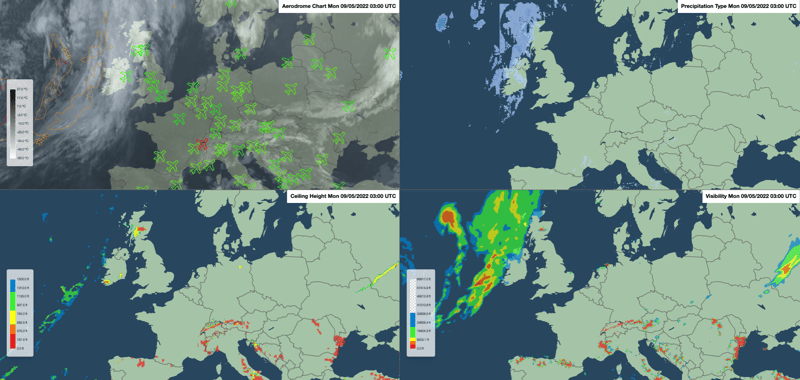 Evaluation example
Weather forecast using MetX for Europe, North America, Africa and Australia on 4 March 6 UTC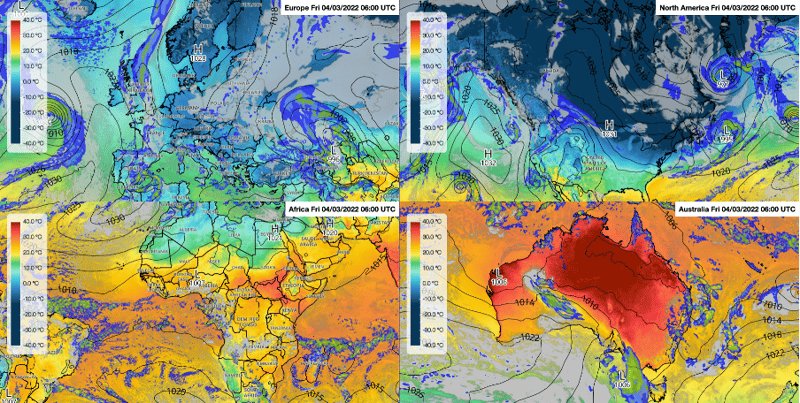 Using the example, the weather situation can be described as follows:
Europe: High pressure system over southern Norway ensures calm weather conditions, but first low pressure foothills reach the British Isles and the Iberian Peninsula.
North America: Northeastern US states experience cold temperatures at the front of an approaching area of high pressure. An area of low pressure near California brings snowfall at low elevations.
Africa: A tropical depression over the West Indies brings rainfall to northern Madagascar and the southeastern African coastline. Foothills of the low over Spain bring rainfall to northern Morocco and Algeria.
Australia: Widespread hot temperatures in the states of Western Australia, Northern Territory and Queensland. An area of low pressure brings rainfall to Adelaide and South East Queensland.
Application of weather maps
The combination of our weather data from the Weather API and the MetX visualization software provides one of the most advanced weather forecasting systems available today. Individually tuned, we manage to deliver weather maps with precise weather data and weather forecasts in complex use cases.
We Improve the Business of Leading Brands Worldwide
Dr. Julie Pasquier
Head of Meteorology
Customised industry solutions
Get in touch - we are here for you.
Contact us if you have questions about specific industry applications or would like advice from our experts! We look forward to your enquiry and will get back to you within one working day.