Unique Climate and Weather Data
With the largest weather database, we provide you with hyperlocal and unique datasets in high spatial and temporal resolution. Our weather API gives you access to the world's most accurate weather, marine, environmental and climate data for every coordinate on Earth.
Access to the most accurate and up-to-date weather data through "on the fly" calculation

Largest source of weather data accessible in real time

Historical, real-time, forecast and climate data

Hyperlocal and unique datasets
Weather Data in Use
Make Better Operational Decisions With Weather Data From Meteomatics
Certain weather conditions can significantly limit the production and day-to-day business of some companies. But not every industry is affected by the weather in the same way. Therefore, with a large selection of specific weather parameters and individual industry solutions, we offer the optimal basis for making better operational decisions. Select your industry and we will create a tailor-made strategy for your company.
Learn From Our Customer Stories
This is how we improve our clients' business with our approach.

Data Origin
Where Does Meteomatics Get Its Data From?
We determine weather data with the help of known weather models, radar and satellite data, special downscaling calculations and our own drone technology. By refining various measurement data, we are able to achieve unprecedented accuracy, especially at the local level. Many of our customers find this extremely valuable because they are often engaged in activities that are highly dependent on the local weather. This includes, for example, the production of renewable energy,land and sea transportation or the operation of an airport.

Combination of high-resolution weather models

Innovative measurement technology with the Meteodrones weather drones

Improved accuracy of weather data via downscaling
Step by Step Towards Hyperlocal Weather Output:
Weather data is collected by weather models

Combination of different weather models delivers first-class data

Weather data is enhanced to produce hyperlocal forecasting

Weather data is provided in real time

Customers can access weather data via the weather API
Combination of High-Resolution Weather Models
The processing of high-quality weather and satellite data, from leading centres worldwide, with self-developed scientific procedures and post-processing methods leads to highly accurate forecasts.

When using weather models, a distinction is made between spatial and temporal resolution. The spatial resolution describes the number of grid cells in the forecast model. A high spatial resolution means that the grid points where model output is produced are spatially close together. With a high spatial resolution of one kilometre or less, many local and dynamic effects can be mapped, which greatly refines and thus improves weather forecasts at the local level.
A temporal resolution indicates the change in weather model output over a time interval. We speak of a high temporal resolution when the weather changes are given in five-minute steps or less. With a high temporal resolution, we are able to greatly improve the weather forecasts with regard to the temporal occurrence of the weather events. Our weather data can be provided with a resolution of 1 minute and less.
Meteomatics offers weather models with different resolutions, for more information see Models and data sources.
What Weather Data Is Available?
| | |
| --- | --- |
| Weather data types | Where does the weather data come from? |
| Weather model data | ECMWF, GFS, DWD-ICON, MF-Arome, UKMO, HRRR, Ensembles, and many more |
| Radar data | Precipitation data from national radar networks from Germany, Switzerland, Austria, France, UK, USA, etc. |
| Satellite data | Meteosat, Himawari-8, GOES-16 and 17 |
| Weather station data | Station networks of national weather services: e.g. German and American weather services and some private providers |
| Atmospheric data | Global weather model data, radiosondes, drones, models for air pollutants/particles/fine dust (ECMWF CAMS, FMI SILAM) |
| Ocean data | Global ocean models such as ECMWF-WAM, ECMWF-CMEMS, NOAA-HYCOM |
| River and watercourse data | Individual measuring stations (e.g. Federal Office for the Environment in Switzerland) |
| Climate data and scenarios until 2100 | Global climate model from the Meteorological Research Institute in Japan, climate scenarios based on IPCC's Shared Socioeconomic Pathways |
| Historical data since 1979 | Global Reanalysis Model (ECMWF-ERA5) |
Available Parameters
Use Weather and Climate Data From a Collection of Over 1800 Parameters
Innovative Measurement Technology With Weather Drones

To make weather forecasts even more accurate in the future, we are the only company in the world to collect atmospheric data with our self-developed weather drone system, the "Meteodrone".
Due to insufficient measurement data coverage in the middle and lower atmospheric layer, weather models are in most cases not yet able to accurately predict weather phenomena such as fog, low clouds and thunderstorms. To close this data gap, we developed Meteodrones.
For the first time, this makes it possible to carry out high-resolution and direct measurements of temperature, humidity and wind. If the data is fed into the weather models, fog, low clouds and thunderstorms in particular can be predicted much better on a local level.

Dr. Martin Fengler
CEO / Founder
By downscaling, we are able to extract fine and granular details from existing weather models.
Accuracy of Weather Data by Downscaling
For the most accurate weather data, a much higher model resolution is required than is the case with global weather models today. At Meteomatics, we also break down the information from different weather models using local terrain models with a resolution of 90 metres. We call this approach 90-metre downscaling, i.e. scaling the model data with respect to the local topographical conditions.

These local landscape conditions are thus included in the local weather forecasts we deliver. In this way we achieve a refinement of the weather forecasts based on the existing weather models.
To be able to implement this, we have developed a proprietary technology that allows us to downscale model output in real time. The Meteomatics Mix provides the appropriate refined output from all available weather models for each coordinate worldwide. By providing nowcasts in 5-minute time steps, we ensure that we can deliver accurate data for every point worldwide.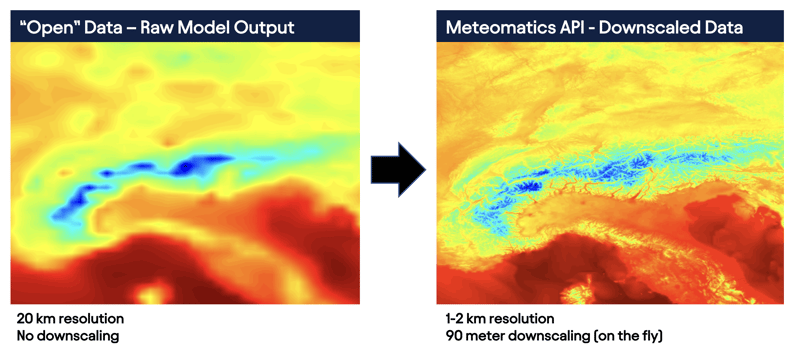 Historical Weather Data From Meteomatics
In addition to current and forecast data, we also offer historical weather data from weather stations and historical weather model data including historical forecast data from 1979 onwards.
Historical weather data can be used for machine learning or for location analyses, for example. The historical data can be conveniently obtained in all formats via the weather API or via the weather data shop.
Get access to weather and climate data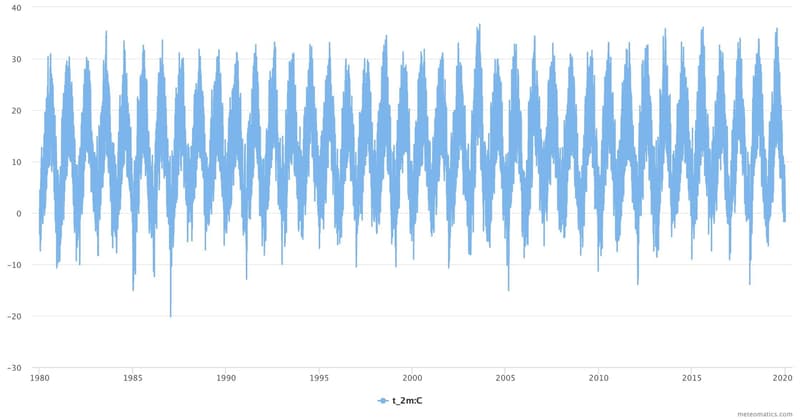 Climate Data From Meteomatics
In our weather API we provide you with various climate data in a compact and simple way. With the integration of climate scenarios, Meteomatics facilitates access to critical meteorological and climatological data for your business and risk planning. This allows you to derive greenhouse gas emission scenarios and make the right decisions regarding climate change.

Derived parameters provide the right data the first time, without further conversion and calculation required

Standardised time series out to 2100 with one query - for any place in the world, in your desired temporal resolution.

Standard file formats and integration in various applications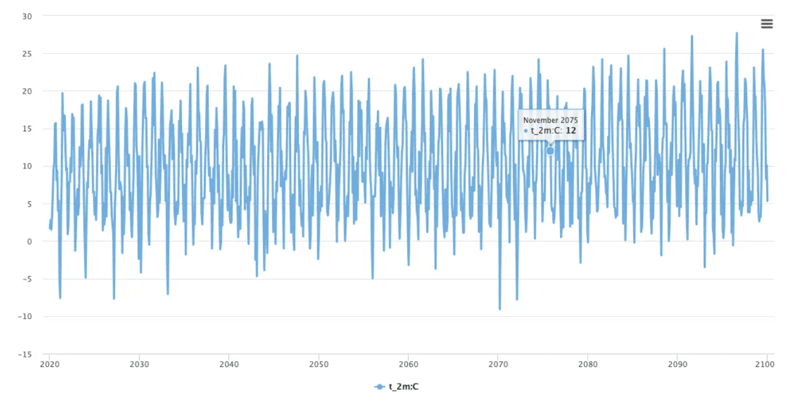 Climate Scenarios
In order to take socio-economic developments into account in future climate projections, five climate scenarios (SSP) are distinguished based on IPCC's Shared Socioeconomic Pathway. This allows uncertainties regarding the consequences of climate change as well as socio-economic pathways regarding adaptation and mitigation strategies to be included. With the help of the weather map tool MetX, you can visualise different climate scenarios.

Sustainability (SSP 1)

Social, economic and technological trends (SSP 2)

Regional rivalry (SSP 3)

Inequality (SSP 4)

Development with fossil fuels (SSP 5)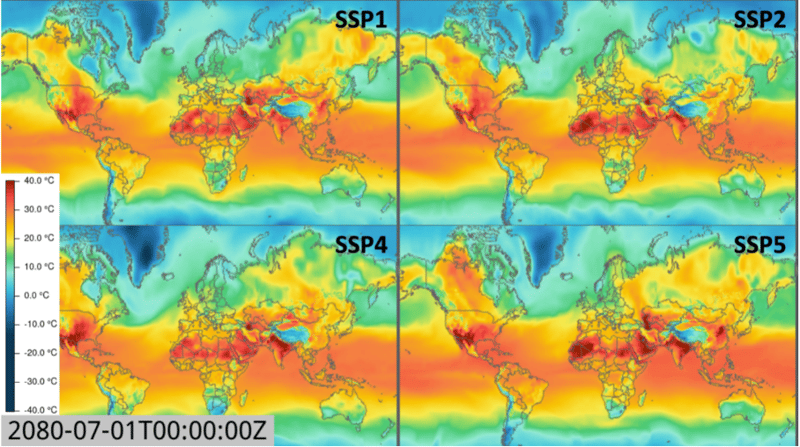 Climate Change Services
Meteomatics Climate Change Services provide insights from Meteomatics' rich and readily available database of climate projections (CMIP6 data) from 2015 to 2100, easily accessible through the Weather API, to help demonstrate the potential impacts of a changing climate. Our climate advisory services help businesses identify exposure to long-term climate change impacts.
Meteomatics offers unique insights into the physical impacts of climate change, such as:
Quantifying hyperlocal physical impacts of climate change on cities, infrastructure, agriculture, etc.

Transforming commercial problems and issues into analytical frameworks

Adapting the analysis of specific meteorological and business parameters to customer needs

Risk analysis and risk quantification based on scientific climate scenarios

Coping with the impacts of both the "new normal" and extreme events

Scenario analysis with the latest CMIP6 scenarios
Customised reports for locations, countries or areas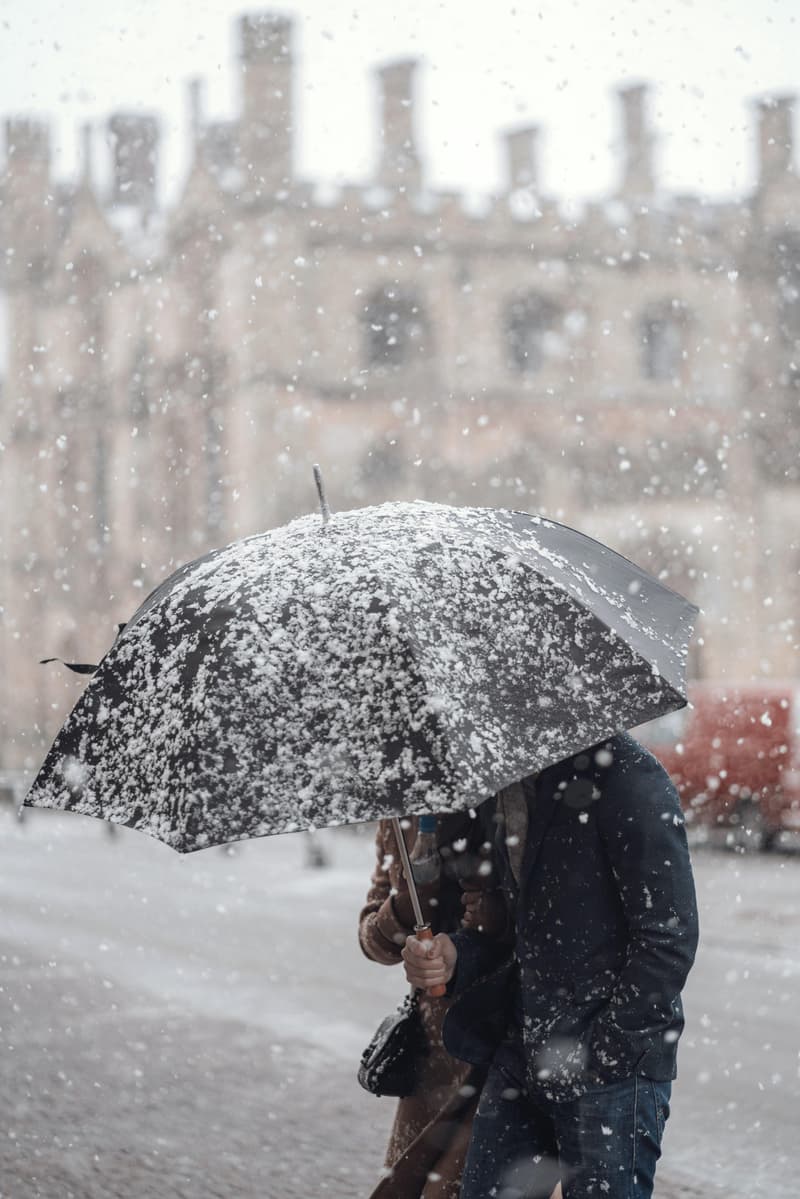 Get Access to Weather and Climate Data
Use the full range of weather data - whether historical weather data, data in real time, forecasts, or climate scenarios out to the year 2100. In addition, new data sources are constantly being developed and added. We invest a lot to be able to offer the most accurate weather data for every location worldwide.
Permanent Access With the Weather API
With our weather API, you get long-term access to historical weather and long-term climate data: Use the weather API as an efficient tool for integration into your programming environment and thus enable the analysis of weather effects.
Unique Access in the Weather Data Shop
In our weather data shop you can order individual weather data sets directly from download. Here you will find a comprehensive selection of current and historical weather data as well as sector-specific weather parameters.
Visualise Weather
Visualise all weather events in a high-resolution map view - with our web-based weather map tool MetX based on the Weather API.
Climate, Weather and Business
We provide all relevant weather and climate data to build up an early warning system for major weather impacts on nature, agriculture and the environment in general. This includes short-term data as well as long term climate data.
We Improve the Business of Leading Brands Worldwide
Melanie Luther
Head of Sales and Meteorologist
Customised industry solutions
Get in touch - we are here for you.
Contact us if you have questions about specific industry applications or would like advice from our experts! We look forward to your enquiry and will get back to you within one working day.