Replacing Radiosondes With Meteodrones
Replacing Radiosondes With Meteodrones
Radiosondes are valuable for collecting atmospheric data but can be costly and have environmental impacts.
In contrast, Meteodrones offer a more flexible and precise alternative, especially in challenging monitoring environments.
Why Meteodrones Will Replace Radiosondes
Radiosondes are important because they provide valuable information about the weather and the Earth's atmosphere. These devices are small instruments attached to weather balloons that ascend into the atmosphere. As the balloons rise, the radiosondes measure various atmospheric parameters such as temperature, humidity, pressure, wind speed and direction.
The data collected by the radiosondes is used to create weather forecasts (the collected data is used in the calculations of weather models) and climate models, as well as to study the Earth's atmosphere. This information is crucial to understanding the behaviour of the atmosphere and its impact on our daily lives.
While radiosondes are important tools for collecting atmospheric data, there are some potential disadvantages to their use. Mainly cost and environmental impact are booth factors, that need to be considered.
Cost: Radiosondes can be expensive to produce, launch, and maintain, which can make it difficult to obtain the necessary funding to conduct regular balloon launches.
Environmental Impact: Radiosondes are made of materials that can have an impact on the environment if not disposed of properly. The balloons and instruments can also be hazardous to wildlife if they fall to the ground.
Advantages of Meteodrones Over Radiosondes
These factors are also the main barriers to a wide range scalability of radiosondes. Compared to radiosondes, our Meteodrones offer a more flexible and precise way to collect data, especially in areas where traditional weather monitoring techniques are not possible. The disadvantages of radiosondes compared to Meteodrones include:
Limited mobility: Radiosondes are carried by weather balloons, which can only move in the direction of the wind. This limits their ability to gather data in specific locations or to follow specific weather patterns.
Limited duration: The lifespan of a weather balloon carrying a radiosonde is typically several hours, which limits the amount of data that can be collected over time. Weather drones, on the other hand, can carry out several measurement flights in longer time periods, allowing for more extensive data collection. Radiosondes are typically used only two times a day, while Meteodrones can fly every 30 min to collect data from the atmosphere.
Higher cost: Weather drones can be expensive to build and maintain, but they can be reused for multiple missions over several years whereas radiosondes are generally single-use devices and costly in production as well.
Risk of damage or loss: Radiosondes are carried by weather balloons, which can be damaged or lost during the launch or recovery process. Weather drones are typically more durable and can be piloted to avoid potential hazards.
Availability of helium: shortages in the past have affected the cost and availability of helium-filled weather balloons, which can impact the frequency and quality of radiosonde launches.
Meteodrone Soundings
In the spirit of world-renowned Swiss quality, with our Meteodrones we have fully committed ourselves to the development of a unique measuring technology for the most accurate weather data.
Just follow the links to see the sounding campaigns we conduct to validate the reliability of the information gathered by our Meteodrones.
Meteodrone Mobile Solution
The Meteodrone serves as a versatile mobile weather station, offering several advantages over traditional radiosondes. Unlike probes, which take somewhat uncontrollable measurements based on their flight path, our weather drones can be manually controlled on-site or operated remotely.
This allows the drones to hover in place or be dispatched to remote areas where weather stations are absent, enabling measurements that were previously impossible. Hyperlocal data can be collected for specific locations, even during nighttime operations.
Use Case: ETH Zurich's Researchers Benefit from Meteodrones' Flexibility
ETH Zurich researchers conduct cloud seeding experiments to investigate cloud-aerosol interactions and precipitation patterns. Initially exploring ground-based measurements, cable car observations, and tethered balloons, the team ultimately turned to Meteomatics Meteodrones for their unparalleled flexibility in data collection paths. The adoption of our Meteodrones marked a pivotal advancement in their research.
Meteodrone With Autonomous Meteobase System
As a ground station, the Meteobase provides local support for the operation of our Meteodrones. It functions as a communication hub, facilitating seamless interaction between the pilot and the drone while also serving as a control center for autonomous flights.
The Meteobase is a comprehensive system comprising a central computer that oversees various operational, control, and maintenance tasks for the drone.
A Meteobase is capable of:
Monitoring and logging weather parameters at the deployment site.
Autonomously launching and landing a Meteodrone.
Serving as a charging station for the Meteodrone.
Offering real-time visual oversight of the drone's immediate surroundings thanks to strategically positioned cameras.
Maintaining an internal climate control system, incorporating heating and air conditioning, to uphold optimal environmental conditions for the Meteodrone, its electrical components and batteries.
Withstanding various weather conditions, being both waterproof and snowproof.
Meteomatics Powers the US' First Micro-Weather Service With Meteodrone Data and a High-Resolution Weather Model
Thanks to the unique capabilities of our solution, GrandSKY, TruWeather Solutions and Meteomatics have joined forces to install a Meteobase equipped with a Meteodrone at Grand Forks Air Force Base in North Dakota.
Our autonomous flight system is the first drone-based micro-weather service in the United States, capable of reaching altitudes of up to six kilometers above the Earth's surface.
This solution will empower the Weather Operations Center at GrandSKY to detect weather phenomena that directly impact flight decision-making, safety measures, and scheduling.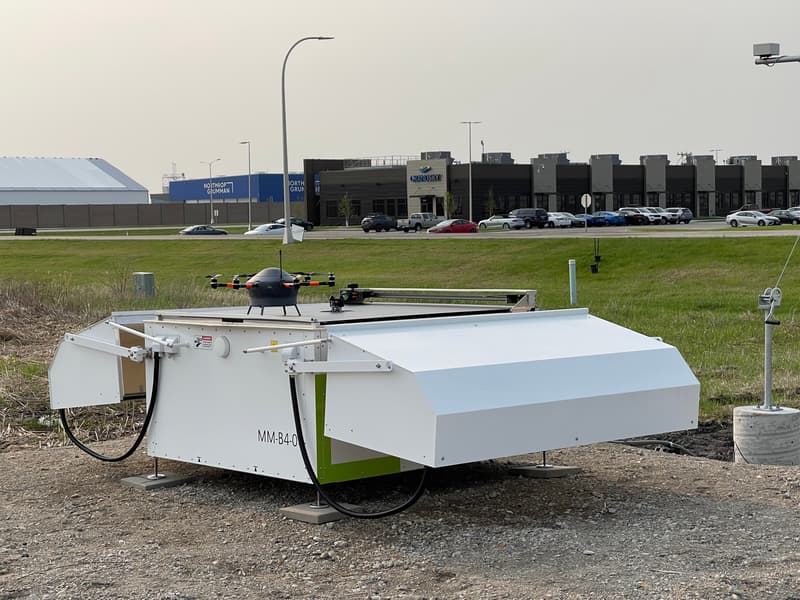 As a ground station, the Meteobase provides local support for the operation of our Meteodrones.
How to Order Meteodrones?
Order a Meteodrone
If you have decided to use a weather drone, our Meteodrones offer a system optimised for your purposes that can withstand all weather conditions.
Send us an enquiry and receive an offer tailored to your needs — no matter the application.
Depending on your requirements, you can make use of our expertise in addition to the product and its accessories. Together with you, we will make a test flight, train you on the use of the drone with a flight training course or even fly the drone on your behalf in a joint project.

Meteodrone Demonstration
We have conducted demonstrations in numerous countries, spanning Europe, the United States, and India. To operate Meteodrones, obtaining country-specific flight authorizations is essential. Meteomatics is happy to assist interested organizations in securing these approvals from national authorities. Please feel free to contact us to discuss how we can facilitate this process.
If you are interested in demonstrations within Europe, we invite you to read the article below, which provides further insights on obtaining flight authorization from the European Union Aviation Safety Agency.

Contact Us Now To Receive Unique Data From the Boundary Layer
Dr. Lukas Hammerschmidt
Chief Drone Officer
Expert knowledge
Get in touch - we are here for you.
Are you interested in purchasing Meteodrones? Or are you interested in new use cases? Then contact our drone experts today to learn more about the many possibilities of our Meteodrones.
Explore Our Services
We provide the most accurate weather data for any location, at any time, to improve your business.