04/27/2023
Meteodrone Demonstration in Ireland
Thanks to a cross-border authorisation from the Irish aviation authority (IAA), the Meteomatics Meteodrone received an approval to fly up to 6 km during daytime.
Dr. Alexander Stauch
Head of Marketing
Met Éireann, The Irish Meteorological Service, has asked Meteomatics to conduct a Meteodrone demonstration in Ireland during daytime. Met Éireann is interested in evaluating the opportunities of replacing measurements by radiosondes with measurements by Meteodrones in the long term. For this reason, Meteomatics was allowed to conduct a live demonstration of the Meteodrone in Ireland on Wednesday 19 April, 2023.
Replacing Radiosondes With Meteodrones
Radiosondes are important because they provide valuable information about the weather and the Earth's atmosphere. These devices are small instruments attached to weather balloons that ascend into the atmosphere. As the balloons rise, the radiosondes measure various atmospheric parameters such as temperature, humidity, pressure, wind speed and direction.
The data collected by the radiosondes is used to create weather forecasts (the collected data is used in the calculations of weather models) and climate models, as well as to study the Earth's atmosphere. This information is crucial to understanding the behaviour of the atmosphere and its impact on our daily lives.
While radiosondes are important tools for collecting atmospheric data, there are some potential disadvantages to their use. Mainly cost and environmental impact are booth factors, that need to be considered.
Cost: Radiosondes can be expensive to produce, launch, and maintain, which can make it difficult to obtain the necessary funding to conduct regular balloon launches.
Environmental Impact: Radiosondes are made of materials that can have an impact on the environment if not disposed of properly. The balloons and instruments can also be hazardous to wildlife if they fall to the ground.
Meteodrone Advantages Over Radiosondes
These factors are also the main barriers to a wide range scalability of radiosondes. Compared to radiosondes, our Meteodrones offer a more flexible and precise way to collect data, especially in areas where traditional weather monitoring techniques are not possible. The disadvantages of radiosondes compared to Meteodrones include:
Limited mobility: Radiosondes are carried by weather balloons, which can only move in the direction of the wind. This limits their ability to gather data in specific locations or to follow specific weather patterns.
Limited duration: The lifespan of a weather balloon carrying a radiosonde is typically several hours, which limits the amount of data that can be collected over time. Weather drones, on the other hand, can carry out several measurement flights in longer time periods, allowing for more extensive data collection. Radiosondes are typically used only two times a day, while Meteodrones can fly every 30 min to collect data from the atmosphere.
Higher cost: Weather drones can be expensive to build and maintain, but they can be reused for multiple missions over several years whereas radiosondes are generally single-use devices and costly in production as well.
Risk of damage or loss: Radiosondes are carried by weather balloons, which can be damaged or lost during the launch or recovery process. Weather drones are typically more durable and can be piloted to avoid potential hazards.
Availability of helium: shortages in the past have affected the cost and availability of helium-filled weather balloons, which can impact the frequency and quality of radiosonde launches.
For these reasons, Met Éireann has expressed interest in evaluating the possibilities of complementing radiosonde measurements with Meteodrone measurements and potentially replacing them with Meteodrones in the long term.
Meteodrone Demonstration in Ireland at the Valentia Observatory Site
The Meteodrone demonstration was conducted on April 19, 2023, in Ireland next to the Valentia Observatory outside of Cahirciveen, which is one of the oldest monitoring stations in the world. The demonstration took place during daytime (around noon) and covered 3 Meteodrone flights, including one flight up to 5350 meters (watch the amazing video).
The collected data of this flight was subject for comparison to the data collected by a radiosonde, which started at about the same time as the Meteodrone.
Additionally to the Meteodrone live demonstration, the expert team from Meteomatics had a presentation about the Meteodrones on site and answered all the questions coming from Met Éireann and other stakeholders involved.
Flying Up to 5300 Meters During Daytime – Why Is This So Special?
So far, the use of Meteodrones for flying up to 5.3 km altitude or higher is mainly restricted to nighttime due to airspace regulations. To serve as a replacement for radiosondes, it is crucial to gather atmospheric data during daytime as well as radiosondes are typically launched twice a day, once during the night and once during the day.
Consequently, to conduct Meteodrone flights during daytime, an approval from the local civil aviation authority and the local air navigation service provider is a mandatory requirement. Meteomatics was the first company in Switzerland that received a flight authorisation from FOCA (Federal Office of Civil Aviation), which is based on the EASA (European Union Aviation Safety Agency) regulations.
This authorisation is the basis for being able to carry out flights at an altitude of several kilometres, even during the day. Of course, the authorisation is also the basis for being able to carry out regular flights with the Meteodrone during the night. Without official authorisation and approvals from the local civil aviation authority, Meteodrone flights beyond visual line of sight are not allowed in general.
Communication With Authorities to Get the Flight Approval
FOCA granted us an approval for flight authorisation that is applicable in Switzerland and the Principality of Liechtenstein based on the EASA regulations. With this authorisation, we approached the Irish Aviation Authority (IAA) to obtain a cross-border authorisation, similar to authorisations for the manned airspace users. The IAA issued a temporary restricted airspace authorisation (as depicted in the picture below) for our Meteodrone demonstration.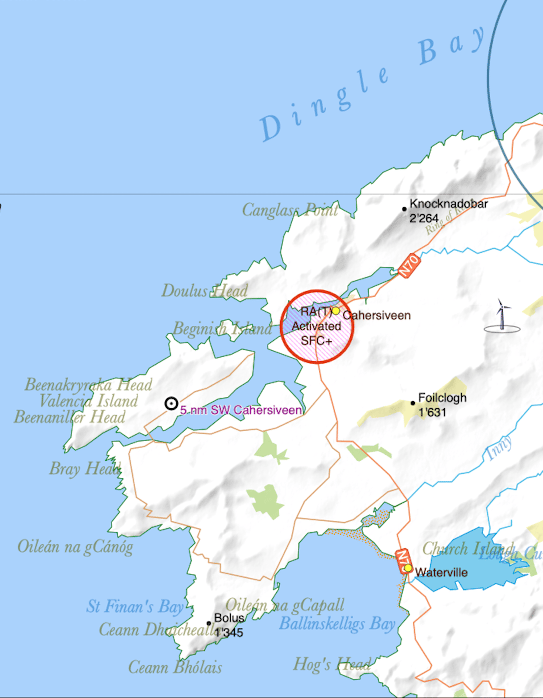 Furthermore, the IAA also published a NOTAM (Notice to Airmen). The NOTAM can be seen here. Reading NOTAMs are part of the flight preparation and thus this message was visible to all parties using the Irish airspace. A Notice to Airmen (NOTAM) is a notice filed with an aviation authority to alert aircraft pilots of potential hazards along a flight route or at a location that could affect the safety of the flight.

How to Get an Approval for Meteodrone Flights in EASA Member States
Based on the flight authorisation from FOCA (Federal Office of Civil Aviation), which is valid in Switzerland and the Principality of Liechtenstein Meteomatics can get approvals for Meteodrone demonstrations in most European countries. In close cooperation with national flight authorities, Meteomatics can obtain flight approvals for their Meteodrones in all EASA member states. The approval is always issued by the national flight authority where the demo is planned, which requires close communication and exchange of relevant documents.
Meteomatics is always happy to support interested organisations to receive such an approval from the national authorities. However, in every situation, the approval will be restricted to a certain area, altitude, and time period. This might vary based on local requirements. Meteomatics is happy to support the approval process in the best way possible to offer Meteodrone demonstrations across EASA member states.
Talk to Our Experts
Contact our experts to learn more about the approval process for Meteodrone flight authorisations in EASA member states and how we can best support you on the journey to receive the approval.
Dr. Lukas Hammerschmidt
Chief Drone Officer
Expert knowledge
Get in touch - we are here for you.
Are you interested in purchasing Meteodrones? Or are you interested in new use cases? Then contact our drone experts today to learn more about the many possibilities of our Meteodrones.
Explore Our Services
We provide the most accurate weather data for any location, at any time, to improve your business.