02/13/2023
Meteomatics' Rescue Parachute Approved as M2 Mitigation
Dr. Akemi Narindal-Aoki
Sr. Content Marketing Manager
Drones are dotting the skies everywhere, doing all sorts of things, from policing and surveillance to landscape photography, from product delivery to weather data measurement. However, operating them can be complex as drone owners must adhere to strict local regulations and obtain the necessary licences.
At Meteomatics, we have been operating our weather drones – the Meteodrones – for nearly a decade. We were the first company to receive authorisation from the Swiss Federal Office of Civil Aviation (FOCA) to fly unmanned aerial vehicles beyond visual line of sight (BVLOS) conditions. This means that we can fly Meteodrones inside clouds and fog, up to an altitude of 6 km, in Switzerland.
And we're now happy to announce that we made yet another significant step forward.
Our Meteodrones' rescue parachute system has been given M2 Mitigation approval by FOCA, enabling us to expand our operational volume to include populated areas!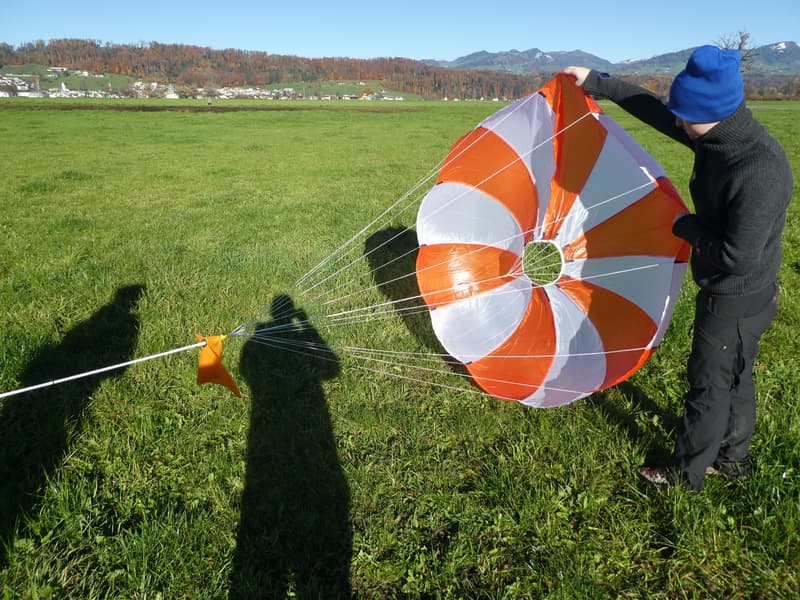 To ensure the safety of individuals and property in densely populated areas, strict regulations are in place for drone operation. These regulations require extensive testing and validation to demonstrate compliance and protect the public. With the support and consultancy of v2sky, we conducted over 40 real life system tests of the Meteodrones' deployable parachute system, according to the strict requirements proposed by the American Society for Testing and Materials (ASTM) in their "Standard Specification for Small Unmanned Aircraft System (sUAS) Parachute" (F3322-18).
The parachute system, which was developed in-house by our own team of engineers, proved to be effective in all scenarios, even in worst-case scenarios. In the event of any malfunction or external factor that prevents the drone from flying, the parachute will automatically deploy, bringing the drone to the ground safely. These tests showed that the Meteodrones pose minimal risk in populated areas.
As a result of these successful tests, FOCA has accepted our parachute as an M2 Mitigation in the Specific Operations Risk Assessment (SORA) process. This authorisation expands the potential operational area of the Meteodrones, which was first utilised for our flight location at the headquarters of MeteoSwiss in Payerne. The data collected by the Meteodrones in the area complement MeteoSwiss' observational data for more accurate forecasts.
Get in touch
If you have any questions about our Meteodrones, please contact us by using the form below or sending a message through the live chat.
Watch the video of one of the parachute tests
Parachute test at Tuggen on January 14th 2022.
Dr. Lukas Hammerschmidt
Chief Drone Officer
Expert knowledge
Get in touch - we are here for you.
Are you interested in purchasing Meteodrones? Or are you interested in new use cases? Then contact our drone experts today to learn more about the many possibilities of our Meteodrones.
Latest News
Stay up to date with the latest news from Meteomatics.
Explore Our Services
We provide the most accurate weather data for any location, at any time, to improve your business.