04/26/2023
Retail Weather Analytics
4 Ways Retailers Can Use Meteomatics Precision Weather Data and AI to Plan for Cold Weather in Spring
Dr. Alexander Stauch
Head of Marketing
Spring is typically very volatile in terms of weather. A prime example is the month of April, when in some years it has already been very hot or in other years there was even snow. The weather and especially the temperature have a strong influence on the buying behaviour of consumers. On hot April days, for example, sales of beer and ice cream increase, while on cold April days the demand for warm food and clothing rises.
As the spring season arrives, retailers need to be prepared for any weather changes that may impact their sales and operations. To do so, retailers can leverage advanced weather data and artificial intelligence (AI) technology to optimise their planning strategies. In this blog post, we will discuss four ways retailers can use Meteomatics precision weather data and AI to plan for cold weather in spring.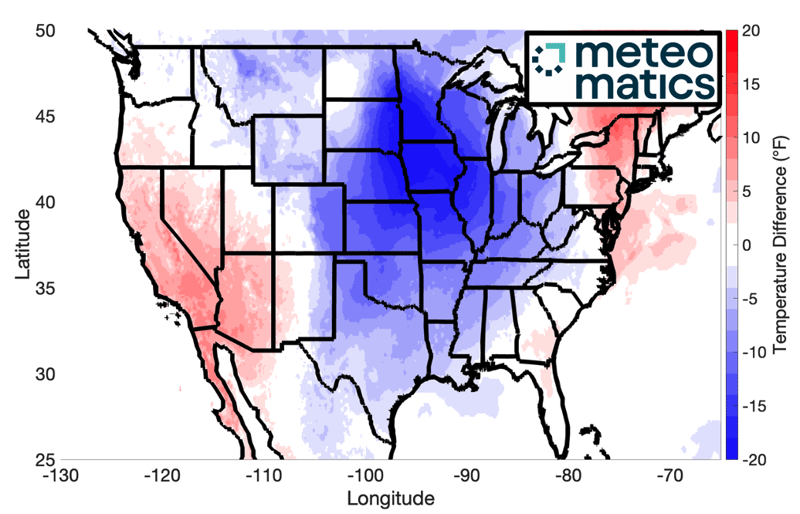 1. Precision Forecasting

Meteomatics precision weather data provides hyper-local and accurate forecasts that are updated frequently. With precision forecasting, retailers can anticipate changes in weather patterns and adjust their strategies accordingly. For example, if the forecast calls for a sudden drop in temperature, a retailer can stock up on warm clothing and accessories to meet customer demand. AI algorithms can further help retailers analyse this data and provide insights on consumer behaviour during such weather patterns, aiding in demand prediction and inventory management.
2. Dynamic Inventory Management
Retailers can use Meteomatics weather data and AI to manage their inventory dynamically. This means adjusting inventory levels based on real-time weather conditions to meet customer demand. For instance, if temperatures drop suddenly, retailers can increase their stock of winter clothing and accessories to ensure they don't run out of stock when demand is high.
3. Targeted Marketing
Meteomatics weather data and AI can help retailers tailor their marketing messages based on weather patterns. For example, if there's a cold snap in a particular region, a retailer can target customers in that area with advertisements for winter apparel and accessories. By personalising marketing messages based on weather conditions, retailers can increase the relevance of their campaigns and drive higher sales.
4. Supply Chain Optimisation
Meteomatics weather data and AI can help retailers optimise their supply chains by predicting potential disruptions caused by weather patterns. This can include delays in product delivery or disruptions to transportation routes. By anticipating these disruptions, retailers can adjust their supply chain to minimise the impact on their operations and maintain customer satisfaction.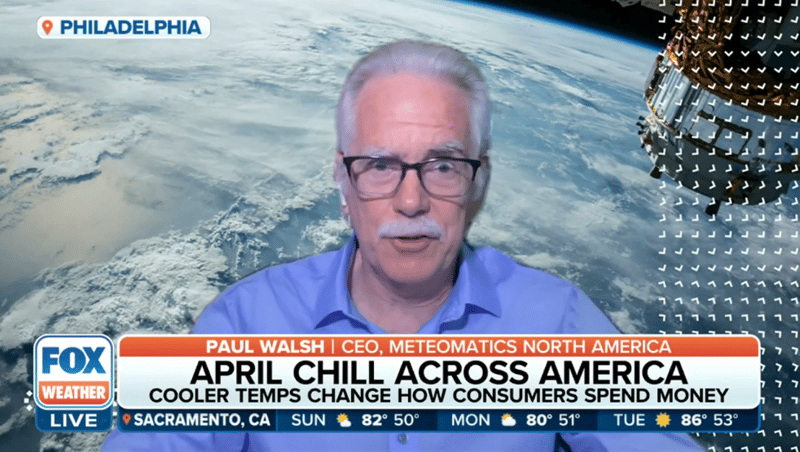 Watch Paul Walsh, our CEO for North America, on Fox Weather, explaining how fluctuations in weather impact consumer demand and what this actually means for the week of the 24th of April, 2023.
With weather data from Meteomatics, retailers can optimally prepare for weather-related fluctuations in demand. The Meteomatics Weather API is the perfect toolkit for data scientists to integrate the most accurate weather data directly into their own planning forecasts and analytics. Talk to our experts to learn more.
Contact Our Experts to Learn More About Weather Impacts on Retail Sales
Dr. Alexander Stauch
Head of Marketing
Customised industry solutions
Get in touch - we are here for you.
Contact us if you have questions about specific industry applications or would like advice from our experts! We look forward to your enquiry and will get back to you within one working day.
Explore Our Services
We provide the most accurate weather data for any location, at any time, to improve your business.