How to Use the URL Creator
04/13/2023
How to Use the URL Creator
Thomas Eldridge
Technology Evangelist
Meteomatics' mission is to make access to weather data intuitive and straightforward. One of the ways we achieve this is with our URL creator. Read this article to learn all about it.

What is the URL creator?
The URL creator is a step-by-step graphic user interface (GUI) to help you create URL queries for the Meteomatics API. Simply click here to see it in action! To do so, you'll need an API account - see below.
Why did Meteomatics create the URL creator?
Writing a URL is the primary way of querying the Meteomatics API.

Most of our connectors for programming languages are simply libraries which automatically write a URL and make a request behind the scenes.
The thing about a URL is that it has to be written in a very specific way. Small typos can lead to frustrating error messages; putting arguments in the wrong order can generate confusing results. Although the URL creator does not provide you the full flexibility that our API offers, it will help you create and understand your first simple queries. Many people will never need to ask the API for anything more complicated than what the URL creator can handle. For everyone else, it still provides a valuable tool for learning how to write a properly formatted URL, before adding complexity in the future.
How to use the URL creator
Check out the video below to see how easy it is to use the URL creator, or keep reading to see my step-by-step easy example, in which I use the URL creator to fetch temperature data for the next day in Lisbon.
Format
First, I choose the type of output I want from the API. In this case, I want a time-series to appear in my web browser, so I choose HTML (plot).

The other options here allow me to:
Open a 2D map of the data in my browser (HTML map)
See the color map of the 2D with no cartographic map data (PNG)

Note that the pixel size in a .png is fixed, so you may need to query a larger area or at a higher resolution to produce a large enough image

View a structured data format (JSON or XML) in my browser
Download a CSV, NetCDF or GeoTIFF containing the data
Location
Next I choose the location of my query.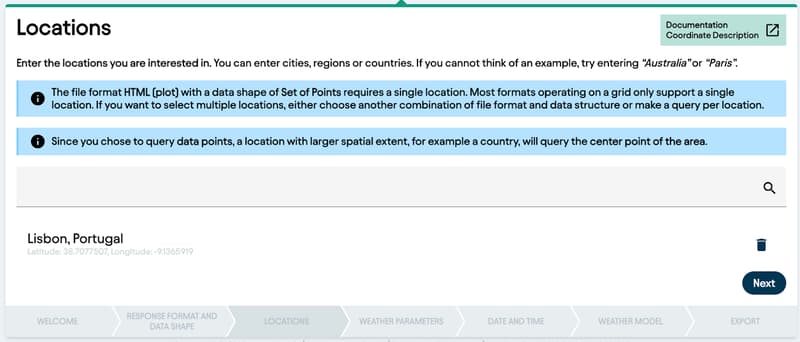 You can see in the info boxes in this step that, because I want a time-series, I can only choose one location - I chose Lisbon. The URL creator lets you type place names, and will automatically determine the centre point of these locations for you (if they're well known enough - otherwise you can put in your own latitudes and longitudes).

For map data, the URL creator also automatically determines the bounding box encompassing well known locations. Of course you can also put in your own bounding latitudes and longitudes too.
Parameters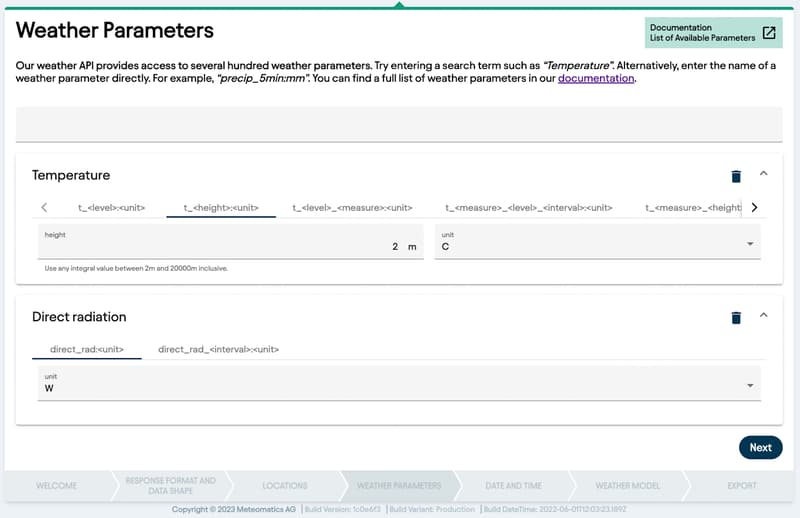 Although our time-series is limited to a single location per query, we can add several parameters for the same location. This can be visually unappealing if the results are plotted on the same chart (because they will share a y-axis, and the scale can therefore be distorted) but is very useful if you plan to download the data and work with it offline.
2D data won't allow you to request multiple parameters at once though - this would involve drawing two different colour maps on the same area, and the result would be pretty messy! (If you really want to do this, our weather visualisation tool MetX allows you to plot map data with different colour schemes, opacities and styles i.e. contours as opposed to solid colours, so you can fully control your data visualisations).
Time steps
Next up we have to decide on the time-steps involved in our requests. Again, 2D data requests only allow you to see one time-step at once. For our 1D time-series though, I'm able to select a start- and end-point, as well as the spacing I want between time-steps.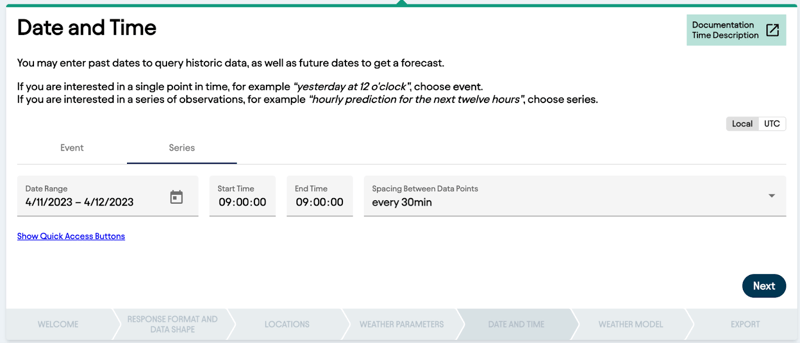 Finally, we can choose our weather model. For your first requests, I'd suggest leaving this as the default value 'mix', which is our way of saving you from having to think about precisely which model to select. Mix automatically selects the most relevant model for any given time and location.
If you have a specific data source you want to query you can add it here, but in general mix will always give you the most trustworthy result.
When you're finished with the URL creator your URL will have the format above, filled in to your specifications. You then have the option to copy the URL to your clipboard, meaning you can paste it into any application you like, or simply click 'open in browser' to automatically make the request in a new tab.
Here, if you've not done so before, your browser will prompt you for your username and password - if you don't have these, visit this page to sign up for a free basic package or head here for a free trial of our complete API. Not sure what the difference is between these two? Check out this article to learn more.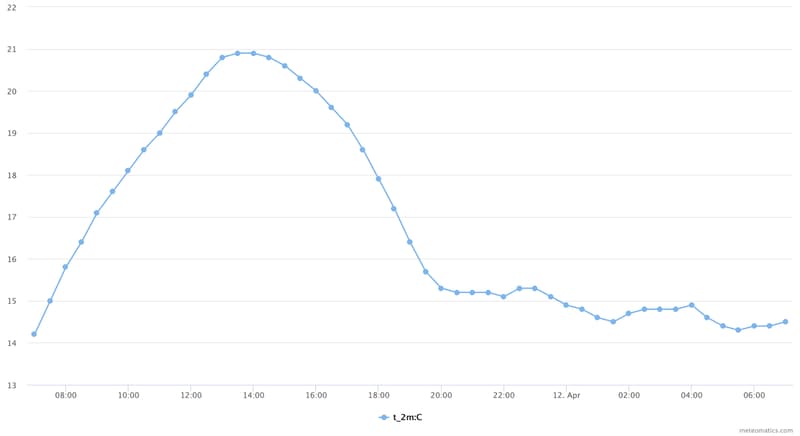 Above you can see the result of my request. If, instead of asking for a time series, I decide to look at a single time step for the whole of Europe (HTML (map) in the format section), my location selection will look like this…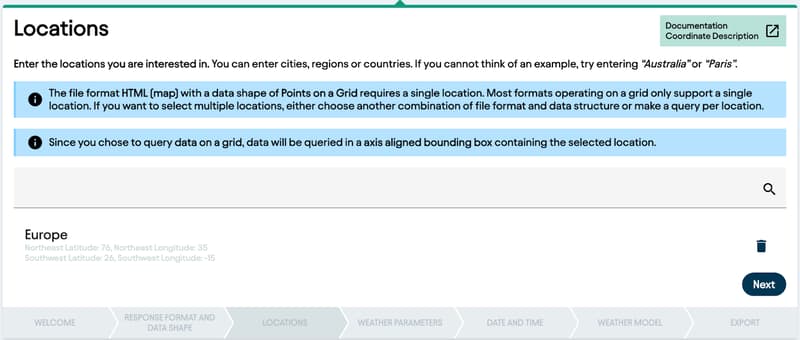 …and the resulting query like this: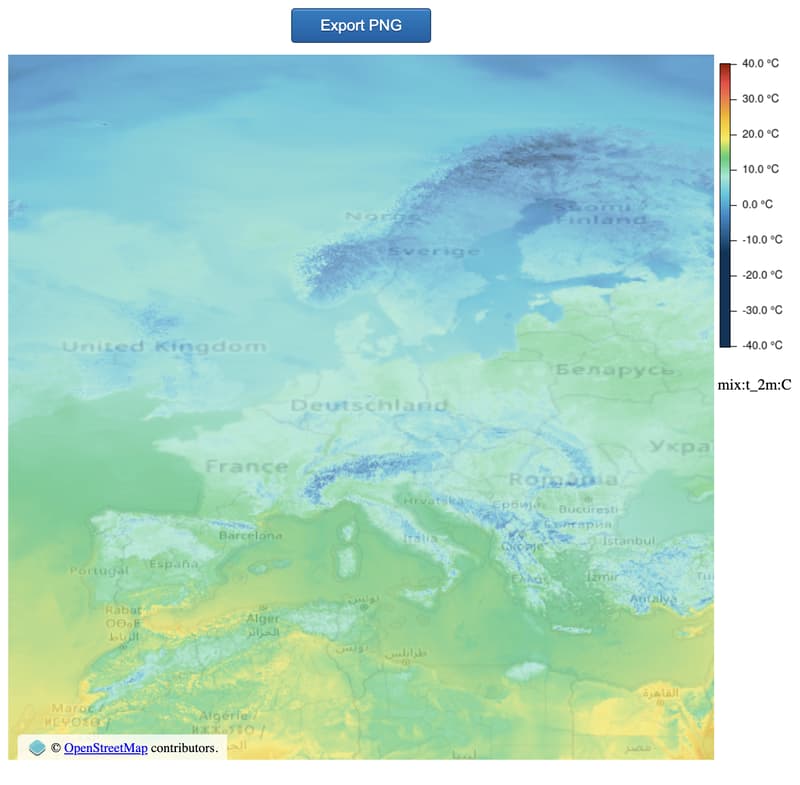 The latitude and longitude extents of the region are automatically added by the GUI, and numerical data for each pixel is available as a mouseover tooltip.
How to download data with the URL creator?
Downloading data with the URL creator is easy. We support three file types for downloading with the URL creator: CSV, NetCDF and GeoTIFF. All you have to do is select one of these during step two ('response format and data shape') and the finished URL will automatically contain instructions to download the corresponding file.
What kind of data can you get with the URL creator?
You can use the URL creator to fetch any data you're entitled to! This varies according to your API subscription. We have three subscription types available.
For users who are just getting started with our API, or who have very limited requirements, a FrBuee Basic package will cover your needs.
The Free Basic package costs nothing, is not time limited, and gives you access to the previous 24 hours of data as well as 10 days forecasts for 15 of the most basic weather parameters, including temperature, pressure, wind speed and precipitation.
If you need more parameters, a larger number of daily requests, and/or access to longer forecasts or more historical data, you'll have to get yourself set up with a business account. The cost is adjusted based on your requirements, so you don't have to pay for things you don't need. Business accounts also allow you to select from any of the models available through the API, rather than being constrained to mix, and include vertical profiles of many variables, and allow you to query ensemble and climate models. Our full range of weather data stands at about 15 PetaBytes, and grows every day!
If you're not convinced about the benefits of a business account, you can try it for free for 14 days with our Free Trial. The only thing which is not included is our full range of historical data, for which you are limited to six months. Other than that, a Free Trial includes all the benefits that you might want from a business account, and the only limitation is the two week trial period. If you've been thinking about upgrading, this is the perfect chance for you to give us a try!

Thomas Eldridge
Technology Evangelist
Do you have any questions about the Weather API?
Please fill out the following form. We will get back to you within 24 hours.
Explore Our Services
We provide the most accurate weather data for any location, at any time, to improve your business.