12/15/2021
Meteomatics' Approach Offers Unprecedented Accuracy of Weather Forecasts
Dr. Alexander Stauch
Head of Marketing
In this interview, Dr. Martin Fengler, CEO and founder of Meteomatics, talks about the changed business environment due to the pandemic, the accuracy of Meteomatics' weather data, the development of Meteodrones and the future of Meteomatics. He also shares his plans for 2022.

Alexander Stauch: Unfortunately, the year 2021 was once again strongly marked by the pandemic, as it was the case in 2020. How has business developed in the last two years of the pandemic?
Martin Fengler: Very positively. We were able to grow very strongly again this year and win many exciting customers, across all industries. The customer growth is mainly concentrated in the automotive industry, energy industry, insurance, and in the aviation environment. These include customers such as Porsche, Tesla, Airbus, Thales, Frontex and Eurocontrol.
Where are the biggest differences compared to the times before the pandemic?
Of course, the way we approach the market has changed for us. We are now moving more towards an online presence, as opposed to the trade fairs we frequented before the pandemic - that has changed dramatically. Additionally, the company has continued to grow at pace, which means we can do more things at the same time. Our range of activities has expanded again significantly this year.
Now let's talk about forecast quality. Among other things, Meteomatics offers its own forecasts based on the national weather models, in other words forecasts developed in-house. Why did Meteomatics decide to develop and offer its own forecasts?
In general, we provide weather data to our customers worldwide. 90% of our business is outside Switzerland. We refine the forecasts of national weather service providers. There are various methods from the field of machine learning and deep learning that allow us to extract very fine and granular details from the data of existing weather models. We do this by combining the weather models with high resolution terrain models, land use data and astronomical data. This allows us to achieve a level of detail that provides significant added value for our clients. In doing so, the Meteomatics mix we have developed provides the appropriate and refined output for each coordinate worldwide, from all available weather models.

"With our approach, we achieve a level of detail in our forecasts that delivers significant added value for our customers"
So, you can already achieve a strong improvement to forecasts by these refinement methods?
In fact, there are several detail problems that cannot be solved by these methods. To solve them, a physical approach is needed. This involves solving flow equations coupled to thermodynamic equations. You have to run a weather code in a very high resolution. This helps especially for more accurate prediction of fog, high layer fog and thunderstorms. To do that, you need a very high model resolution. To be accurate, it requires a much higher model resolution than typically offered by national weather service providers today. We have already created a high-resolution model for Switzerland that we offer to our customers.
What does "high-resolution" mean for weather models?

We speak of high resolution when the resolution is less than or equal to one kilometer. This allows many local and dynamic effects to be represented. The mapping of these effects is made possible by the fact that at a one-kilometer resolution, there is always at least one validation or measurement point for the weather model within one kilometer. At Meteomatics, we additionally break this information down to local terrain models with a resolution of 90 meters. We call this approach 90-meter downscaling, in other words, a scaling of the model data with respect to the local topographic conditions. In this way we achieve the already mentioned refinement of the weather forecasts based on the existing weather models. To be able to implement this, we have developed a proprietary technology that allows us to downscale the model outputs in real time. That's why we can offer downscaling to our customers for global weather forecasts, which is something we're very proud of as a company.
So high resolution can mean different things in different contexts?
"High-resolution" is usually used to mean a resolution smaller or equal to one kilometer in terms of weather data validation, but can also describe the resolution of data downscaled to the topographic conditions. Of course, given high-resolution model data, this can be further downscaled to produce an even higher resolution product with maximum accuracy. In addition, people also speak of a temporal resolution for weather forecasts. This means the time intervals between the individual forecast values. There are many gradations from 5-minute intervals to hourly intervals. With a high temporal resolution, the weather forecasts are again greatly improved with regard to the temporal occurrence of the weather events. At Meteomatics, we can provide very high temporal resolution of less than one minute, if necessary, which also greatly improves accuracy.
Why is high resolution important?
We offer scaled resolution with respect to topographic features, i.e. downscaling, not only for current data and forecasts, but also for historical weather data. High resolution is important in this case to better account for local conditions in weather models, which greatly improves forecast quality at the local scale. We already offer 90m downscaled weather data worldwide, which is why we have many energy customers outside Europe, including customers in the USA and South America, who really value the quality downscaling brings to weather and power forecasting.
"Since we offer 90-meter downscaling worldwide, we have many energy customers outside Europe"
And what does downscaling mean exactly?
Downscaling is the general term for a process in which information that is known on a large scale is used for predictions on a local scale, in other words "scaled down" for local scales. As mentioned earlier, this means in our case scaling the model data with respect to local topographic conditions, which allows the existing forecasts to be significantly refined once again.
This sounds very complex. How is downscaling implemented technically?
The two main approaches to downscaling weather information are the dynamic and statistical approaches. Dynamic downscaling uses high-resolution weather models on a regional sub-area, with observational data or the results of lower-resolution weather models as boundary conditions. These models use physical principles to reproduce local weather, but are very computationally intensive. Statistical downscaling is a two-step process consisting of developing statistical relationships between local weather variables (e.g., surface temperature and precipitation) and large-scale predictors (e.g., pressure fields), and applying such relationships to the results of global weather model experiments to simulate local weather characteristics in the future. At Meteomatics, we use a hybrid of statistical and dynamical methods so that we can combine the benefits from both. In simplified terms, this means that downscaling incorporates the consideration of local conditions in forecast development, which greatly increases local accuracy.
Where exactly does the 90 meters in your downscaled product come from?
We add NASA's 90-meter digital terrain model to improve the granularity of our weather data, historical, current, or for future forecasts. So, the 90 meters is a consequence of the NASA terrain model and represents a 90 by 90-meter grid. That means, that the NASA's terrain models have a measured point every 90 meters for validation, such as the elevation above sea level for a specific coordinate. These local landscape conditions are thus incorporated by downscaling into the local weather forecasts we perform.
"We add NASA's 90-meter digital terrain model to greatly improve the granularity of our weather data, historical, current, or for future forecasts"
Does the downscaling apply to all weather models offered, including weather models from the National Weather Service?
Exactly. We offer downscaling on all weather models and for all our weather parameters. Thanks to our technology, downscaling is even applied live, as the calculations are performed in the background in real time.
What are the benefits of combining high-resolution weather models and downscaling for Meteomatics' customers?
We achieve unprecedented accuracy of weather forecasts by combining these approaches, especially on a local level. Many of our customers experience an extremely high added value because they often have local activities that are highly dependent on local weather. This includes, for example; the production of renewable energy, the impact on land and sea transport routes, or the operation of an airport.
Meteomatics claims to offer the world's best and most accurate weather data. What makes you so sure that this is the case?
We are, of course, in competition. After all, the weather forecasting market has been around for at least 30 to 40 years. It's a growing market, but to a certain extent it's also cut-throat competition. Customers, especially in the energy sector, only switch to a new provider if there is an extreme increase in quality. Otherwise, they would have no incentive to switch. And we are continuously benchmarked, which means we know from these third-party comparisons where we stand in terms of quality. In addition, we know the market and the products very well. Meteomatics itself has existed for 10 years, and we also have colleagues with us who have 15 or sometimes even 20 years of experience. This gives us a very high level of detailed knowledge, which in turn allows us to say with very great certainty that we set the bar very high. So, I really do believe that we are the place to go for the best weather data in the world.

Dr. Martin Fengler
CEO / Founder
Why not pursue the dream of being able to compute and provide such a weather model for the entire world at extremely high resolution?
"We know very well from third-party comparisons where we stand with the quality of our data"
In addition to the most accurate weather data, what features make Meteomatics' weather data offering even more attractive to customers?
The accuracy of the weather data and the high spatial and temporal resolution are of course already very strong arguments for customers to choose our offering. We also offer a strong performance architecture with our weather API, which enables our customers to obtain all data in real time via just one interface. In addition, we offer a very detailed technical documentation and provide free open-source connectors for all major programming languages. So, if you request access to our API, you can start using the data immediately after you receive the login data. It is also important that we offer prompt and powerful consulting and assistance to our customers to develop and maintain individual solutions that fit their needs exactly. This includes, for example, the development of new weather parameters that the customer requires.
Meteomatics provides a wide range of models and parameters. Is there also something about weather that Meteomatics can't provide?
We have data in our weather API for virtually everything these days. If you were to look very carefully with a magnifying glass, you might find a small area where we don't have anything yet. We offer historical data, current and forecast data, and data that maps different climate projection scenarios for the next 100 years. We now offer our customers real-time access to about 7 petabytes of data. In addition to atmospheric data, we also have surface data, upper air data, soil data, maritime data, all the way to data from pollutants such as particulate matter but also dust and Saharan dust.. In addition, new data and sources are constantly being developed and added. We are investing to ensure we are the leading one-stop-shop for environmental data in the future.

In addition, Meteomatics will also collect weather data in the future using the Meteodrones you developed yourself. How is the development of the Meteodrones progressing?
We have also taken another very big step forward in the last two years. Today, we have drone systems that can fly up to six kilometers high. These are so-called "beyond visual line of sight" operations. In this regard, we receive great support from the Federal Office of Civil Aviation in developing such drone systems, which we then also operate in Switzerland. Furthermore, we deliver the drone systems internationally. For example, we export the systems to various national weather services. In addition, we recently started an exciting pilot project for our meteorological drones with Meteo Swiss. The Federal Office of Civil Aviation is also funding a large roll-out of drone technology in small but meteorologically challenging Switzerland. This will allow us to improve the weather forecasts for Switzerland even more. In particular, fog, high-layer fog and thunderstorms can be predicted much more accurately on a local level.

Assuming you had one wish for the new year – hypothetically – what would you wish for Meteomatics in 2022?
Hmm, well, our whole company thrives on passion and purpose. What I would like to see for the future is to be able to calculate the ideas we are pursuing today, such as the high-resolution weather model for Switzerland, on a much larger domain. The next logical step from the Swiss point of view would be to calculate and offer this weather model for Europe, then also for the USA. But of course, there is also this moonshot vision: why shouldn't we aim to calculate and offer such a weather for the whole world? The combination of global 90-meter downscaling, what we already do and offer, with a global high resolution weather model (resolution smaller or equal 1 kilometer) would ultimately result in a quantum leap of global weather intelligence. Of course, this requires a lot of financial resources and processing capacity, but this is the vision, and we are working on it very intensively. I have no doubt that we will achieve this goal in the next several years, so my wish for 2022 would be that we complete it in one, and can move on to ever more exciting goals.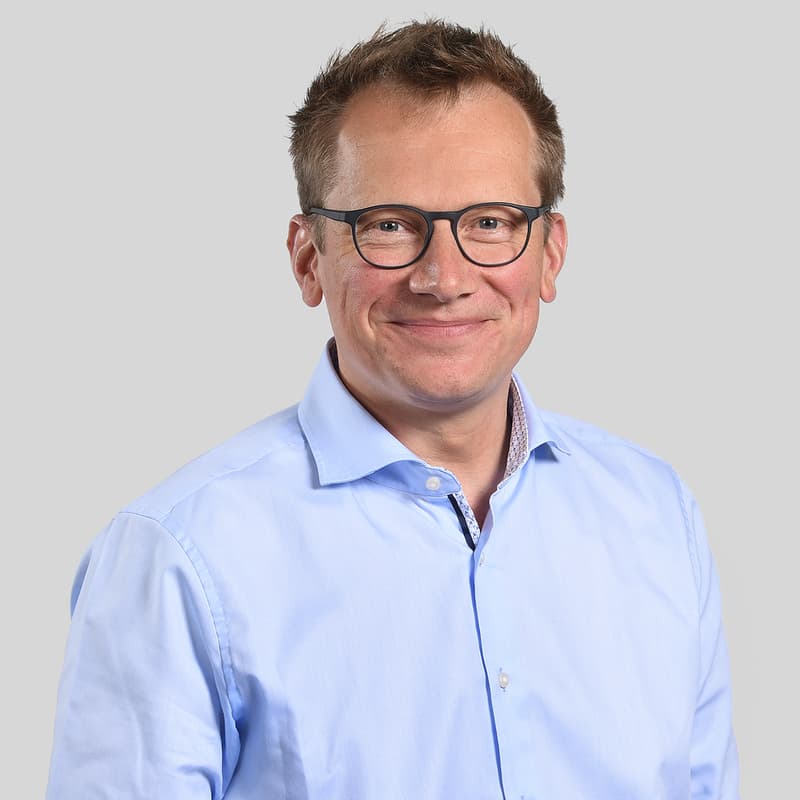 About Dr. Martin Fengler
Dr. Martin Fengler studied at the Technical University of Kaiserslautern (Germany), where he received his PhD in applied mathematics. After his studies he developed several numerical weather prediction codes for Meteomedia AG (today MeteoGroup Switzerland), where he was responsible for the Technology & Innovation Department. Due to his personal hobby as a recreational airplane pilot, he discovered the need for hyper-local and well-developed weather forecasts, especially for fog, very early. Recognizing this requirement, Martin founded the company Meteomatics in St. Gallen (Switzerland) in the year 2012. Since then, he has been running the company very successfully, developing new industry standards that significantly improve weather forecasts. Today Meteomatics has about 55 employees across the St Gallen headquarters as well as two international offices. Besides his family with two children, Martin also enjoys spending time in nature: climbing, hiking and other outdoor activities are also among his hobbies.
You have not found a suitable answer to your questions?
Our experts will be happy to support you.
Latest News
Stay up to date with the latest news from Meteomatics.
Explore Our Services
We provide the most accurate weather data for any location, at any time, to improve your business.